Design (2)

Design of various types, including web, published, logo and worn.

Here are some examples of my design work.
Logo design for Mouthfuls, international food and restaurant forum (note the image is mine, the text is not)
The Smokefree Action website from 2004/5
Other organisations for which I have worked :

50 years of the SI banner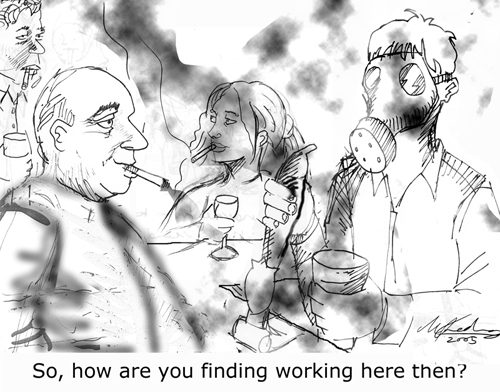 A cartoon for ASH on the subject of smokefree pubs.

I was looking for a Twitter logo for a work project, and didn't find one I liked, so I made this one

Where to put those books that haven't been 'lent' to friends, or carried into the sea by a sausage dog (sorry Gore Vidal, your 'Creation' was subject to this) or destroyed in a fit of pique (the bloody Celestine Prophecies, what a load of bunk)...
The Dedalo bookcase by Porada is one of the best designed I have seen, but price info is suspiciously elusive, meaning it must cost a shocking amount of money.
This is a good round up of 30 creative bookshelf designs